Cookie Policy
About cookies
Cookies are information packets sent by web servers to web browsers and stored by the web browsers. The information is then sent back to the server each time the browser requests a page from the server. This enables a web server to identify and track web browsers. There are two main kinds of cookies: session cookies and persistent cookies. Session cookies are deleted from your computer when you close your browser, whereas persistent cookies remain stored on your computer until deleted, or until they reach their expiry date.
Cookies on our website
Broadex uses cookies on this website to monitor your use of this website. For example, we may monitor how many times you visit, which pages you go to, traffic data, location data and the originating domain name of a user's internet service provider. This information helps us to build a profile of our users and provide more relevant information for our users.
In addition to analytical cookies, this website sets a cookie to ensure you are visiting the correct version of the website for your region. Using IP detection from ipapi , we determine your geographic region and forward you to the correct language version of www.brodex-tech.com . You can however override this at anytime on the top menu bar.
The cookies we use can fall into four categories
Strictly necessary cookies
These are essential cookies that are required for the operation of the site. They include, for example, cookies that enable you to log in to secure areas of the site (if applicable). These cookies cannot be disabled.
Analytical/performance cookies
These allow us to recognise and count the number of visitors and to see how visitors move around the site when they are using it. This helps us to improve the way the site works, for example, by ensuring that users are finding what they are looking for easily. Broadex used Google Analytics, see "Google cookies" section for details.
Functionality cookies
These recognise you when you return to the site. This enables us to personalise content for you and remember your preferences (for example, your choice of language or region).
Targeting cookies
These record your visit to the site, the pages you have visited and the links you have followed. We will use this information to make the site and the advertising displayed on it more relevant to your interests. We may also share this information with third parties for this purpose.
More information on cookies
Google cookies
Broadex Technologies uses Google Analytics to analyze the use of this website. Google Analytics generates statistical and other information about the website use by means of cookies, which are stored on users' computers. The information generated relating to our website is used to create reports about the use of the website. Google will store and use this information. Google's privacy policy is available at: Google Policy
Refusing cookies
You can set your browser to refuse all or some browser cookies, or to alert you when websites set or access cookies. You can do this in your browser settings. If you have disabled or refused cookies, please note that some parts of this website may not function properly.
If you would like more information about cookies, we can recommend www.aboutcookies.org and www.allaboutcookies.org as helpful resources. Both websites also provide instructions on how to reject cookies if you would like to do so.
More information about individual cookies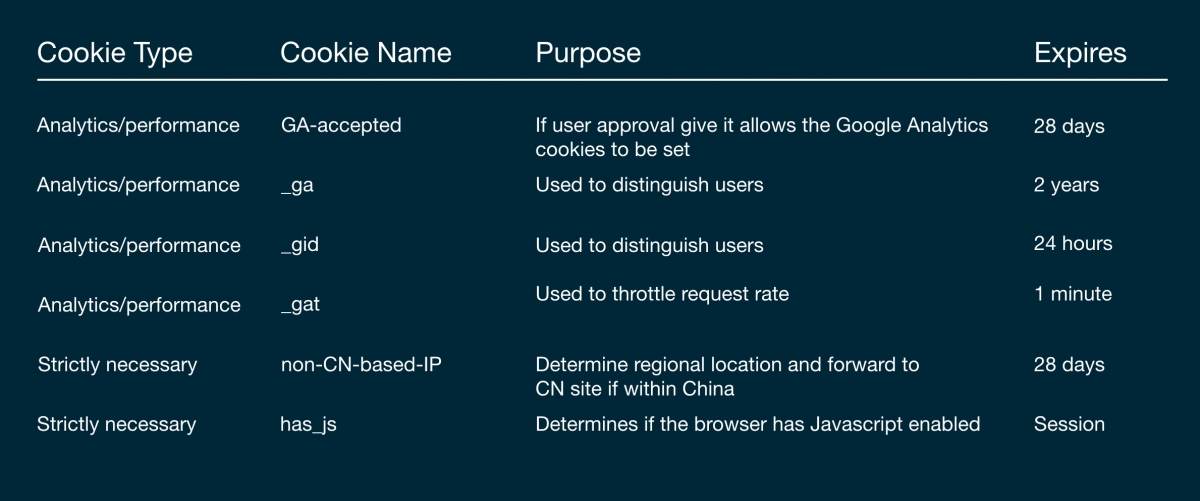 Last updated: 24th September 2020