Full suite of 200G modules for intra-datacenter interconnect
5th May 2021
Broadex Technologies (Shenzhen Stock Exchange 300548), a leading provider of optoelectronic components to the telecom and datacom markets, announces the launch of full suite of 200G modules for intra-data center applications. The new products, which include 200G copper cables, optical cables and optical transceiver modules, enable Broadex Technologies to provide a one-stop solution for all 200G application scenarios in hyperscale datacenters.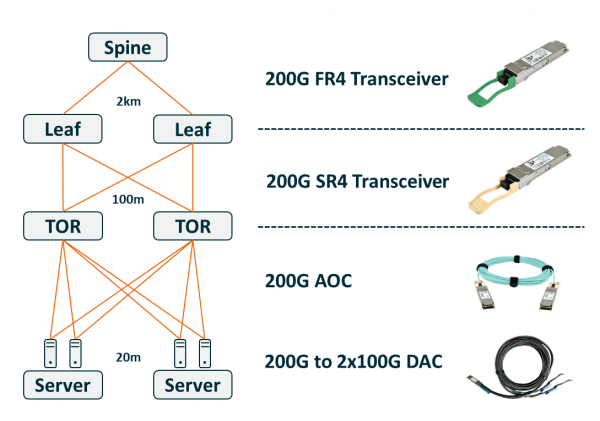 "We expect that 200G products will become a popular choice for datacenter operators in the next few years as they seek to achieve higher speed connections at decreased costs. We are excited to have the opportunity of offering these products to our fast-growing customer base", said Dr. Wei Zhu, CEO of Broadex Technologies. "As an intermediary data rate between 100G and 400G, 200G strikes an effective balance between cost and performance, helping datacenter operators to achieve a smooth bandwidth upgrade in a cost-effective way. 200G provides a flexible path through which to scale the internal datacenter structure and the underlying interconnections at a low economic cost."
The 200G series transceivers supplied by Broadex Technologies utilize a QSFP56 package, while the 200G DAC, ACC and AOC cables support a wide variety of "break-out" options. The AOC, SR4 and FR4 products adopt 4*50G PAM4 signal transmission and the core optical and electrical chips, such as lasers, drivers and DSP, are mostly off-the-shelf standard components. This enables full flexibility to adapt to a wide variety of application scenarios and ensure continuity of supply at a manageable cost.
Availability
Broadex Technologies' new 200G products are available now.